ORGAN DEDICATION
Sanbornton Congregational Church
October 23rd, 2022   2PM
The Sanbornton Congregational Church organ has undergone a complete makeover.  Some of the original Estey ranks were retained but, with acquisition of a 3-manual Austin Console, additional ranks of Austin, Moller, and other noted companies have been added to make the instrument a comprehensive American-Classic style instrument.
The instrument evolved through the hard work of K. Robert Bengtson, Clif Mills, Dennis Akerman, Robert Ladew and Laura Belanger.  Special thanks also goes to church members for their financial support.
Sanbornton Congregational Church is located at
21 Meeting House Hill Road, Sanbornton, NH
uccsanbornton.org
ORGAN RECITAL
First Congregational Church, Meredith, NH
September 18, 2022  4PM
The church's most recent organ upgrade is to a Rodgers 2-manual digital hybrid instrument. 4 pipe ranks continue to speak, but are now enhanced by the addition of nearly 76 stops including the Rodgers patented Voice Palette.
Program includes music by Lefebure-Wely, Bach, Handel (with Organ Symphony Assistant Virtual Orchestra) and others.
First Congregational Meredith, NH is located at 4 Highland St., Meredith, NH
News and Events
Organ Symphony Assistant featured at AGO Mini Convention, March 5, 2022
The Merrimack Valley Chapter of the AGO held their annual Mini Convention with 4 programs featured.  Among them was a program on Organ Symphony Assistant. The event was held at the First Calvary Baptist Church in North Andover, MA. A lecture was given by Laura Belanger interspersed with music examples played by organist, Randy Steere.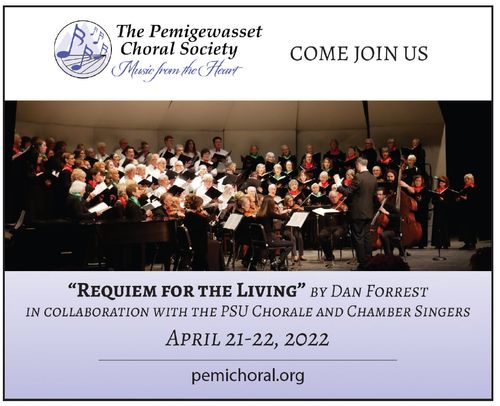 Pemigewasset Choral Society
Winter 2022 Concerts will be
December 1,2, 4. 
Stay tuned for more information or go to pemichoral.org
Sanbornton Congregational Church, Sanbornton, NH 
Laura is the organist at the historic Sanbornton Congregational Church in Sanbornton, NH where she provides organ music and accompanies the Adult Choir.