Video Sheet Music
 

Instructional Page
For those interested in:
The OSA Experience Instantly

Easy Set-Up

A No Click Track Option for Performance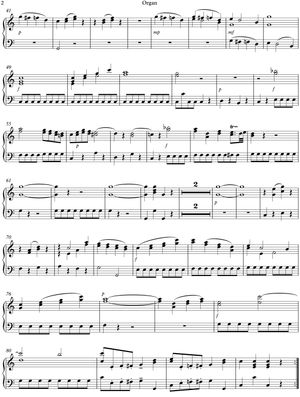 Video Sheet Music Format
Eliminate the Click Track! 
Many scores are now available in a video sheet music format for use with an iPad. If you don't see your OSA choice available in the Video Sheet music format, let us know and one will be created for you. The sample video at left will give you an idea how Video Sheet Music works.  In the video, you will hear the organ part for reasons of example only but, with your purchase of a video sheet music MP4, only the orchestra will be heard as you play the organ part.
RECOMMENDED INSTRUCTIONS FOR DOWNLOAD  
Although, there are any number of ways to download and make use of your Video Sheet Music (which is simply an MP4 file), this method is our suggestion for keeping your files organized. However, you may discover other options that works for you.
Suggestion: After downloading your Video Sheet Music MP4 files to your computer, it is best to save it in a main file folder (ex: "OSA Video Sheet Music").  Then create a sub-folder with the title of the work ( "Poulenc Organ Concerto"). The easiest way to transfer the files to your iPad is through iTunes. Connect your iPad to your computer via a USB cable and open iTunes.  You will see an iPad icon.  Click on it and scroll down to "Photos". After opening "Photos page", Click "Sync Photos" and in the "Copy Photos from" box add your main file folder name. Also be sure click on   
"All Folders" and "Include Videos".  After syncing, you should be able to see all your Video Sheet Music files in your photos app.  
PRACTICE SEQUENCE
For the best results, first practice with the PDF version of your piece. Once you are secure with the organ part, then try practicing with the Video Sheet Music Aural Click Track version. In the click version, the click track (or "conductor track") is not only a metronome but your steady guide through any ritardandos, accelerandos, fermatas, etc.  After you are secure with the tempo and all time alterations, move on to the Visual Click Track version.  This will be like "removing the training wheels" but, with diligence and patience, the results will feel as close to a real performance as possible.  With the Visual Click Track version, you will also be afforded the luxury of using your OSA file for a real time performance in your home, at your church or for a workshop.
VIDEO SHEET MUSIC EDITING 
Sound Editing:
If you are interested changing speed or pitch slightly (to match the pitch of a pipe organ, for example), you will need an iPad app called Nu-Movie Player.  Once downloaded to your iPad, it is suggested that you click the information button (upper right hand corner), go to the "Additional Functions (In-App Purchases)" menu and purchasing "Always remove Banner Ads" as well as the Save Option. This is an inexpensive app and removing the ads is well worth doing. Open the NU-Movie Player app and click on "Photos" at the bottom.  Following our suggestions and saving your MP4s in the iPad Photos app, all your videos should be organized and, consequently, easier to find. 
When you open an MP4 file in Nu- Movie Player, you will see an icon (center right).  Click on that icon and you will see two simple controls for both tempo and pitch. Both are fairly intuitive.
REMEMBER that excessive adjustment of both pitch and speed will distort the sound of the files.
Score Editing:
One of the challenges of Video Sheet Music is page editing like registration, dynamics, etc.  There is an iPad app called Vont, which, with some effort and practice, will allow you to visually edit your scores. 
Another option is to transfer your Video Sheet Music to a computer video editing program, like Filmora (available for both PC and MAC) and then re-save it as a new MP4 version. Otherwise, the USB version is better for more extensive editing.
SOUND QUALITY 
Although you can get sound directly from your iPad, you may wish to connect to better quality external audio, like headphones or a stereo sound system With no audio I/O's on newer iPads, there are other options available including USB-C to 3.5 audio jack adapters.  
I prefer to use a connector, 
JCA379 manufactured by J5 Create connected to an Audio Interface (I like the Focusrite Scarlett 4i4 Audio Interface). The JCA379 can be plugged into a standard electrical outlet and has ports that will connect your iPad via USB-C and a separate port to connect your audio interface. The JCA379 will also keep your iPad charged. From your audio interface, you can connect to any audio system, from home stereo to a full PA system.
Watch this video to learn more about
Video Sheet Music and
Nu-Movie Player